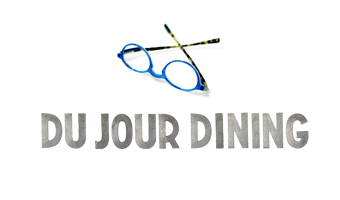 About Du Jour Dining
We create a specific seasonal market driven menu for each dinner we perform, match a wine with each of approximately nine courses and dedicate ourselves to making that menu, your evening, something special. With only 12 diners to focus upon, we can do things a restaurant can not – like giving you our full focus for the entire evening including as much or as little of the chef's commentary as desired. The table is yours for the night, but beware the chef may join in for a glass of wine at the end!

Each dinner is different and we will never serve someone the same course twice. We develop a menu* using the best local produce, grains, fish and meat. Most menus are nine courses with approximately eight distinctive wines specially matched with the specific course.

An email to all approved de jour dining members will go out at least one week in advance giving the date(s), a proposed menu (menus may vary due to available materials) and and pricing for the food and wine. Just click on the "Make a Reservation" button and fill in the required information to process your payment securing your spot(s) for the dinner. Anyone can reserve, by payment, any number of remaining seats. Two days prior to the event attendees will receive an email with the location of the dinner. Please let us know any food allergies or any ingredients you truly dislike. All allergies will be avoided and dislikes will be taken under advisement.
---
* We don't create regular vegetarian or vegan menus, but if you are interested, please send us an
email
and we can do a special vegetarian dinner if you have 12 people.
We do not make substitutions on the menu and wine is always included in the meal. If you wish to bring your own wine, there will be a surcharge of
$20
per bottle.